Our famous turkey chili recipe really is basic AF! This turkey chili comes together in 3 simple steps, but never compromises on flavor. Make a batch today!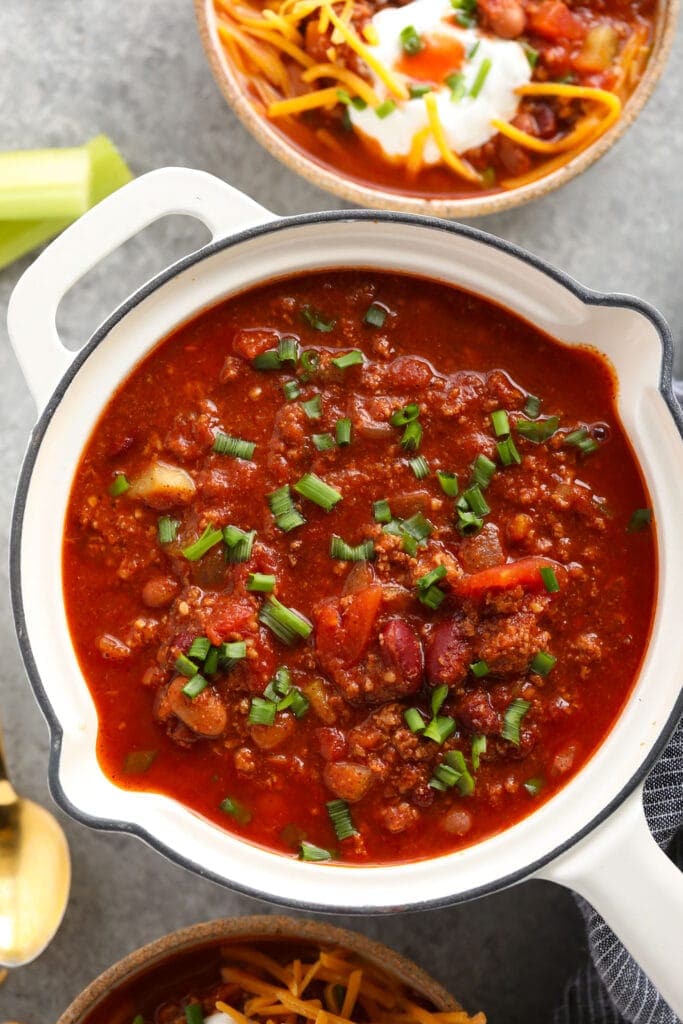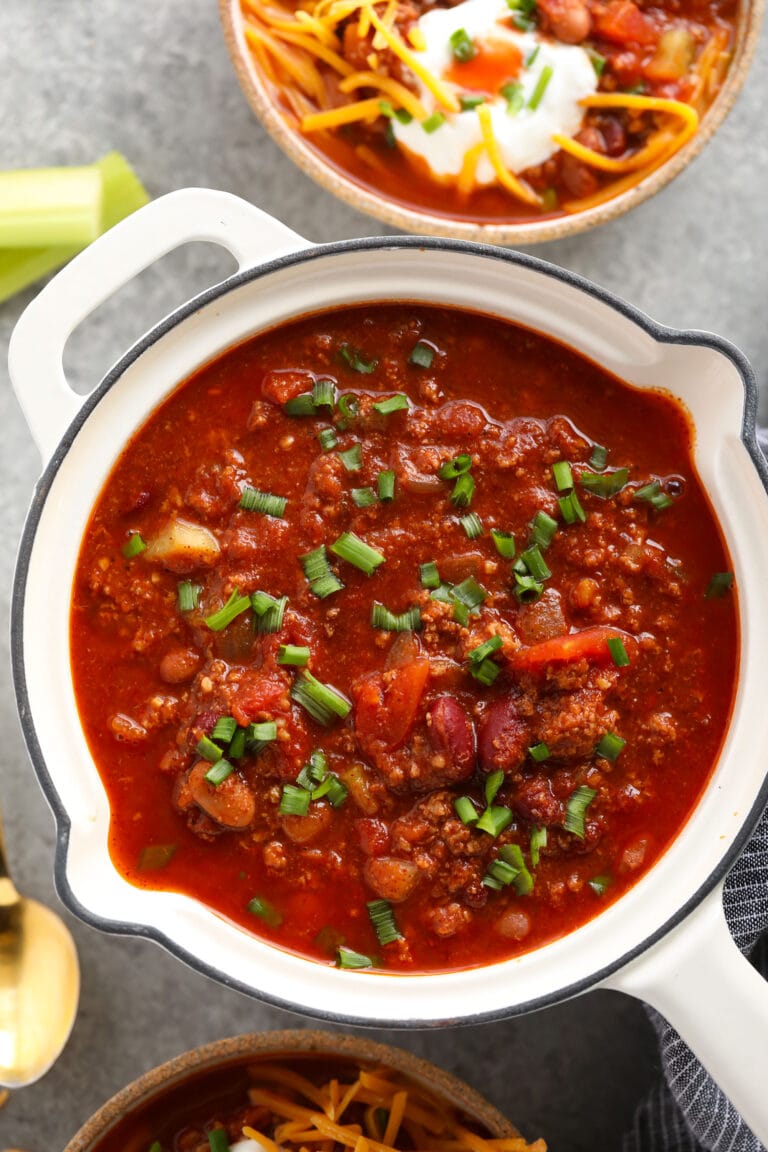 Basic AF Turkey Chili
That's right, chili lovers! This turkey chili is basic AF and we're not afraid to shout it from the rooftops! It's protein-packed with simple ingredients and seriously could not be easier to make.
You guys love our beef chili recipe so much, that we decided to make something quite similar, but a little bit lighter.
Oh, but don't you worry your chili loving tummy, this easy to make recipe does not skimp on flavor. Far from it! While this turkey chili packs basic ingredients, the flavor can't be beat.
Turkey Chili Ingredients
The ingredients for this easy to make turkey chili can break down to 3 simple groups: spices & seasonings (because simple chili DOES NOT have to sacrifice on flavor!), meat, veggies & canned goods. Here's what you'll need:
Spices & Seasonings
Olive oil
Chili powder
Ground cumin
Garlic powder
Minced garlic
Smoked paprika
Salt & pepper
Worcestershire sauce
Apple cider vinegar
Maple syrup
Chicken broth
Meat
Vegetables & Canned Goods
Diced yellow onion
Diced celery stalks
Canned crushed tomatoes
Canned diced tomatoes
Canned pinto beans
Canned red kidney beans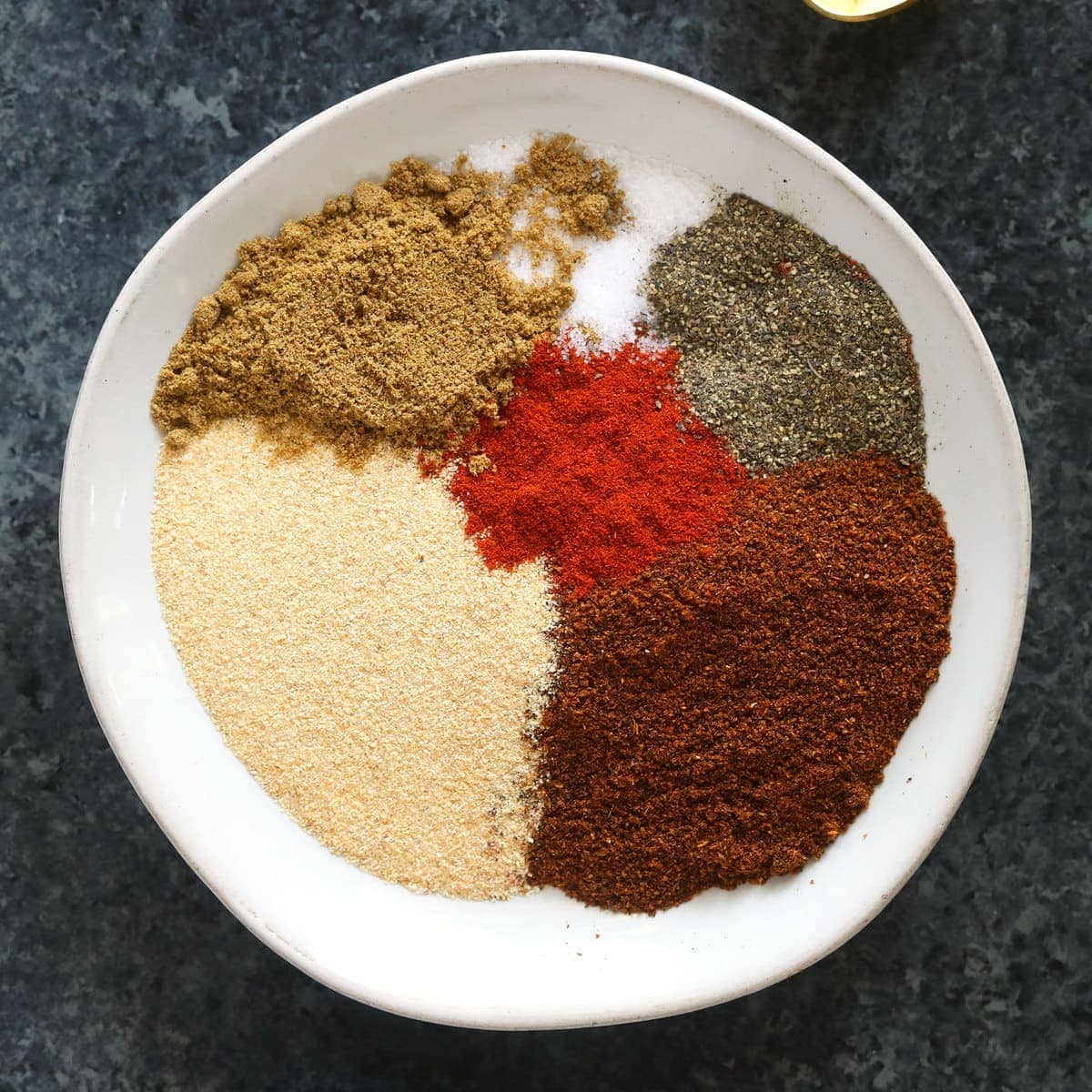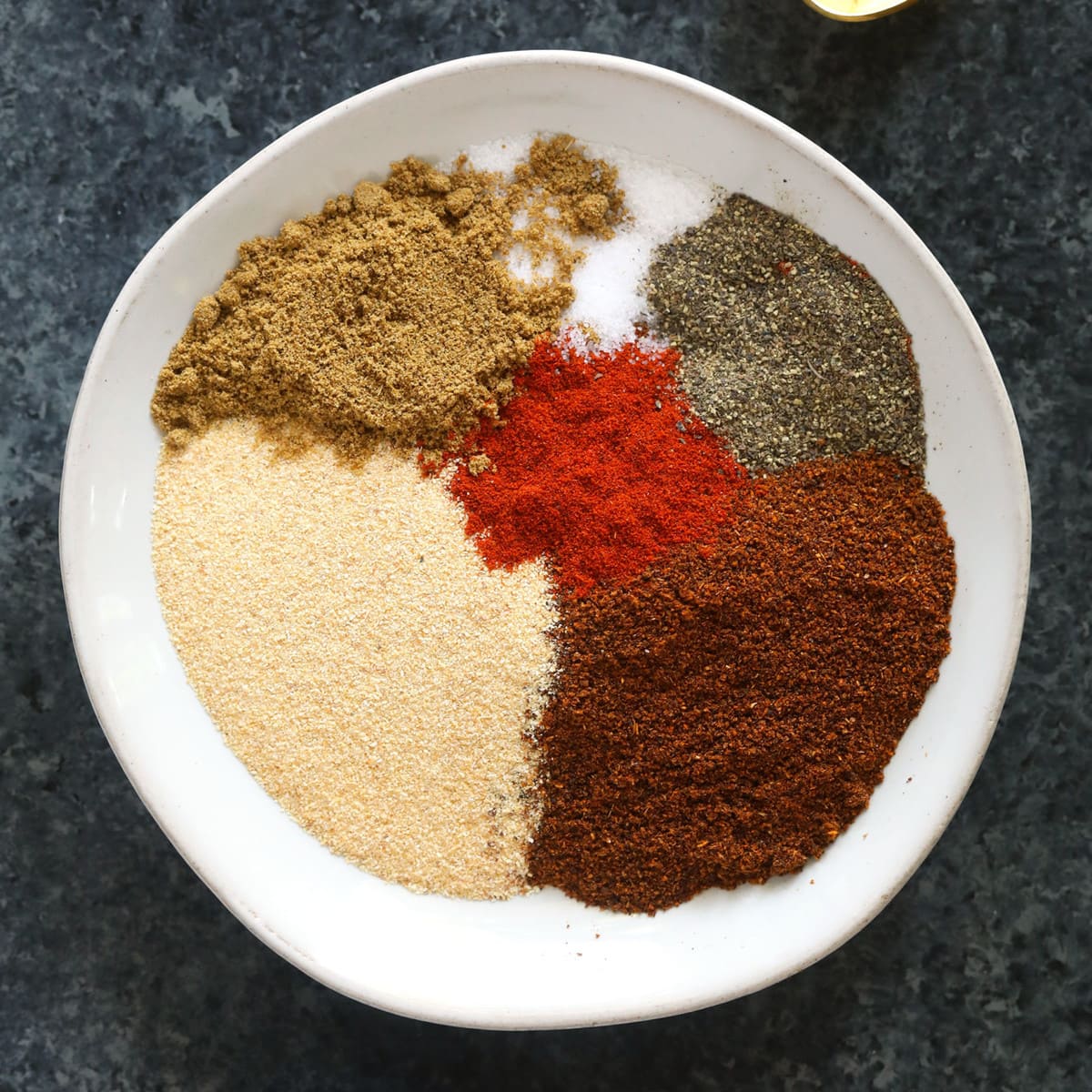 try it!
Homemade Chili Seasoning
Keep a jar of our homemade chili seasoning in your spice cupboard to use in any of our chili recipes!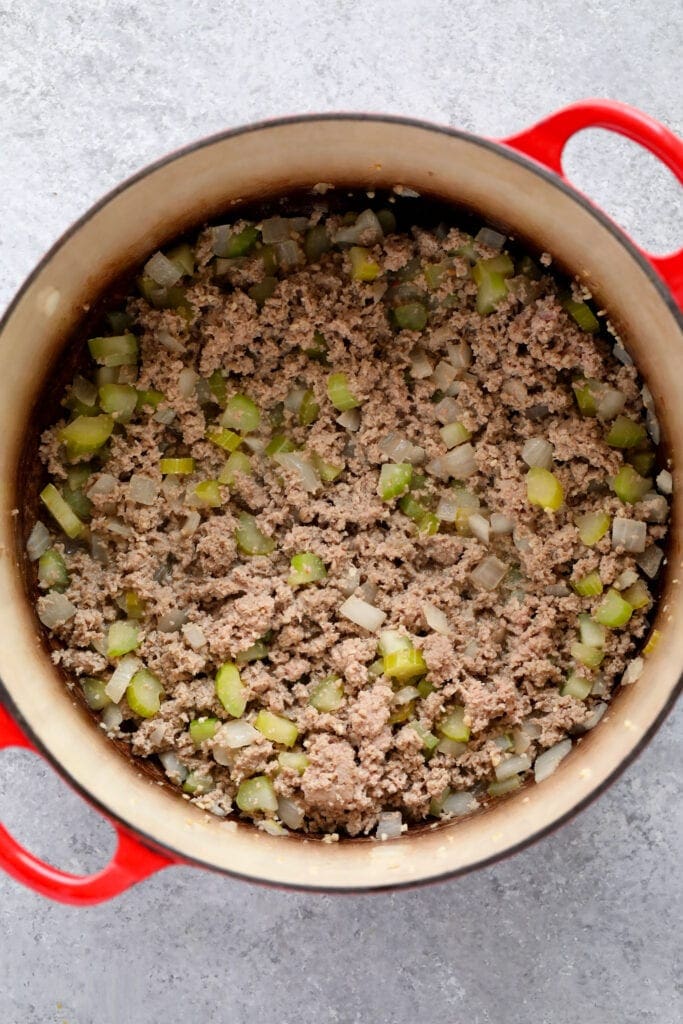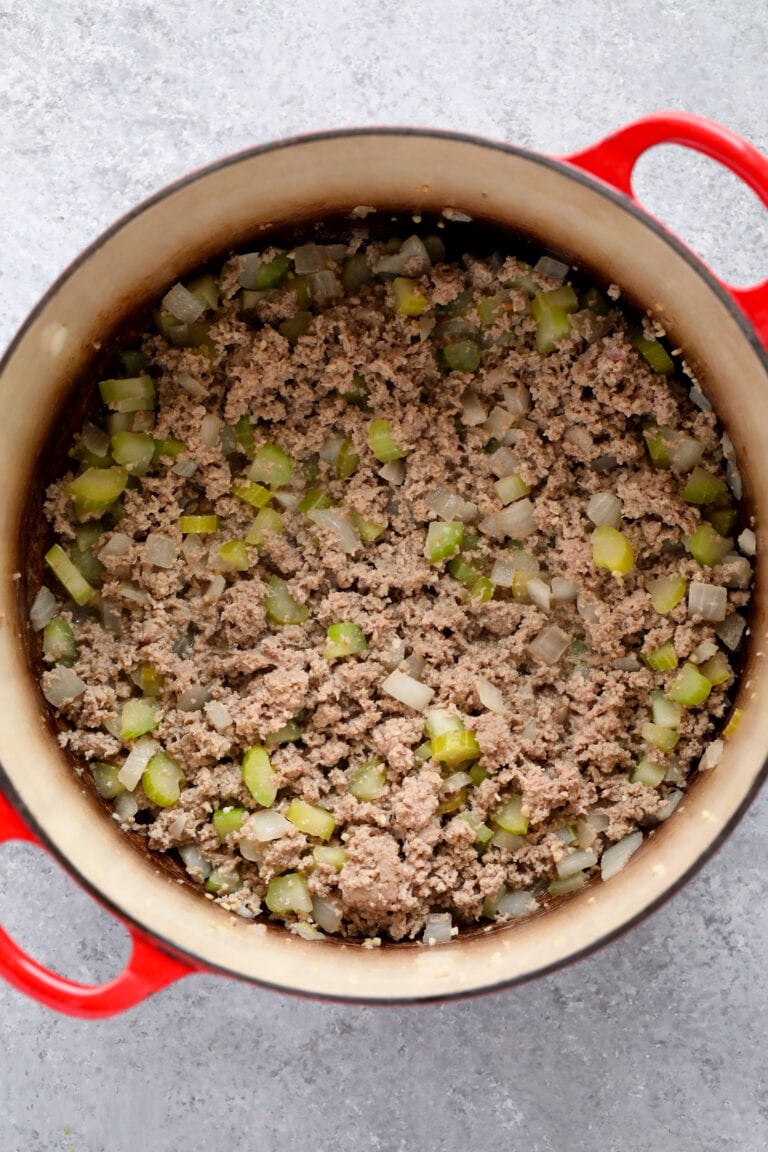 A Little Sweetness — Our Secret Chili Ingredient
Every chili recipe needs a little bit of sugar in some form to bring out all of the savory flavors from the chili powder and other seasonings. Most of our chili recipes calls for a little bit of maple syrup. It's warm, unrefined, and absolutely delightful.
Don't have maple? Swap it with some brown sugar or even some honey.
How to Make Turkey Chili – In 3 Steps!
When we said that this turkey chili is basic AF, we weren't kidding! You're 3 easy steps and a total time of less than 30 minutes away from enjoying a delicious bowl of chili at home:
First, add olive oil to a large dutch oven and heat over medium/high heat. When the olive oil is fragrant, add in your onion, celery, and garlic, and sauté for 1 minute.
Then, add the ground turkey and continue to cook over medium/high heat for about 5 minutes or until almost browned.
Next, add the rest of the turkey chili ingredients (yep, all of them!) and bring to a boil over medium/high heat. Once bubbling, turn the heat down to low and let your chili simmer for 5-10 minutes. Top with your favorite chili toppings, and ENJOY!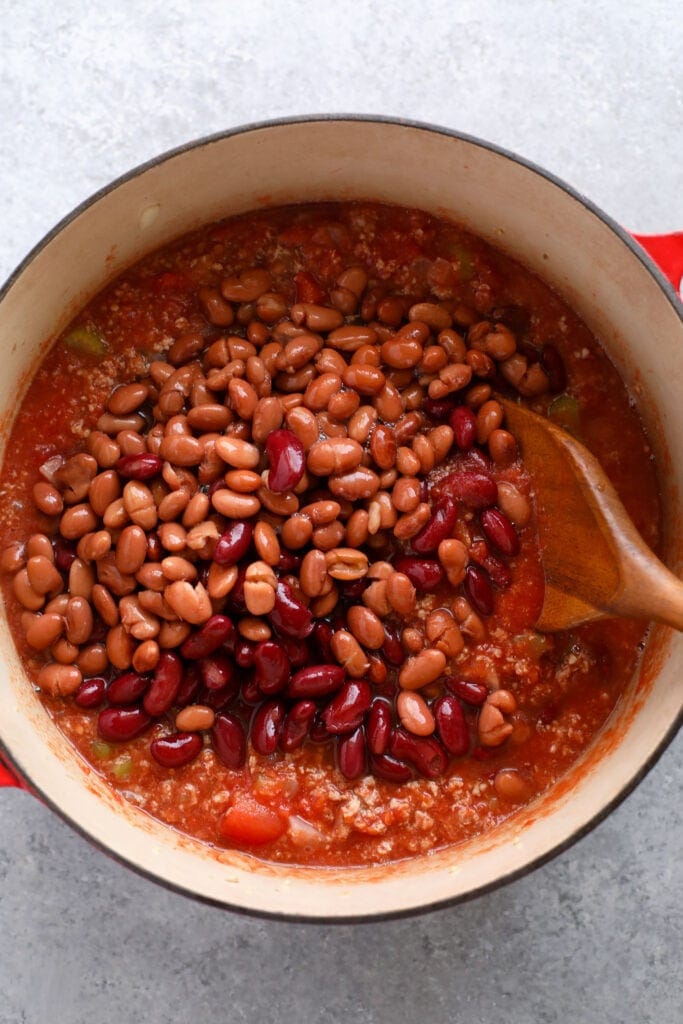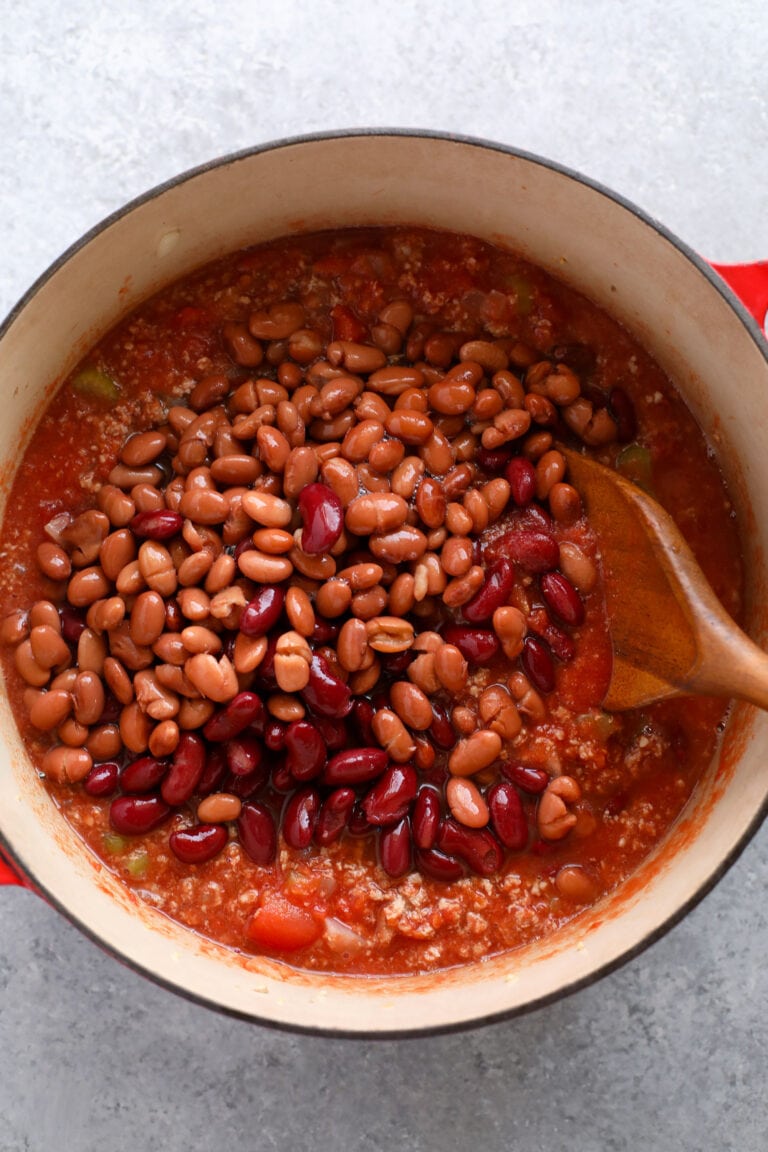 Easy Ingredient Swaps
Lean ground turkey –> We love ground turkey because it's lean and packs delicious flavor, but any ground meat will work!
Chicken broth –> Feel free to sub beef broth or vegetable broth.
Yellow onion –> Prefer the flavor of another onion, go for it!
Worcestershire sauce –> Any hot sauce will also work.
Maple syrup –> Don't have maple? Sub in another sugar like honey or brown sugar.
Chili Toppings
In our opinion, chili isn't chili without the toppings! Here are some of our go-tos you'll find us sprinkling on our chili:
Shredded cheese
Chips – tortilla chips or Fritos
Green onions or chives
Greek yogurt or sour cream
Hot sauce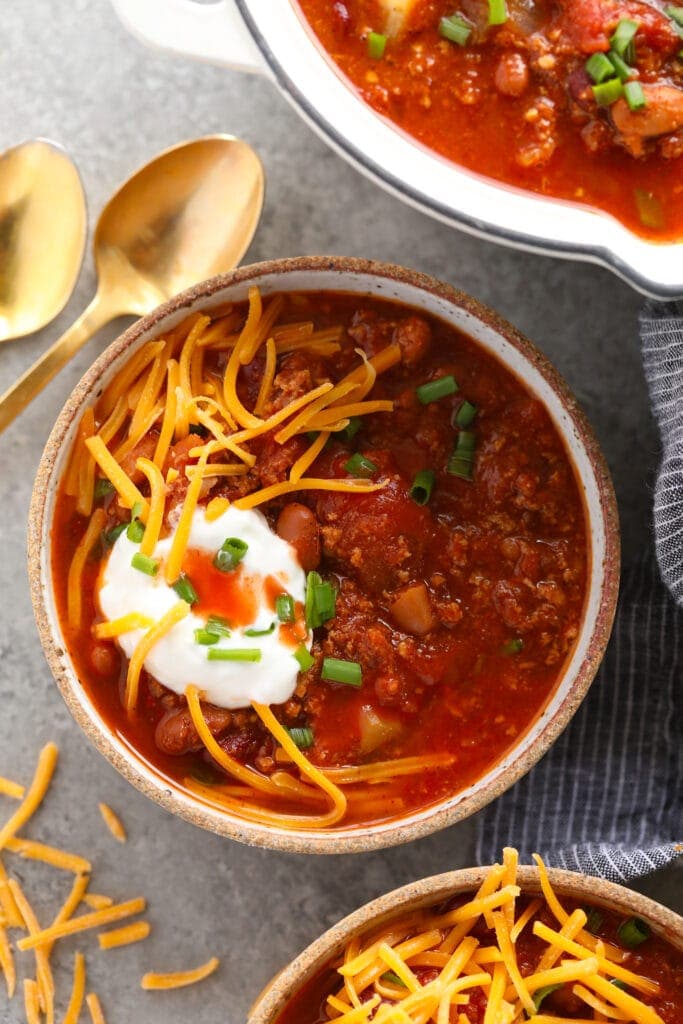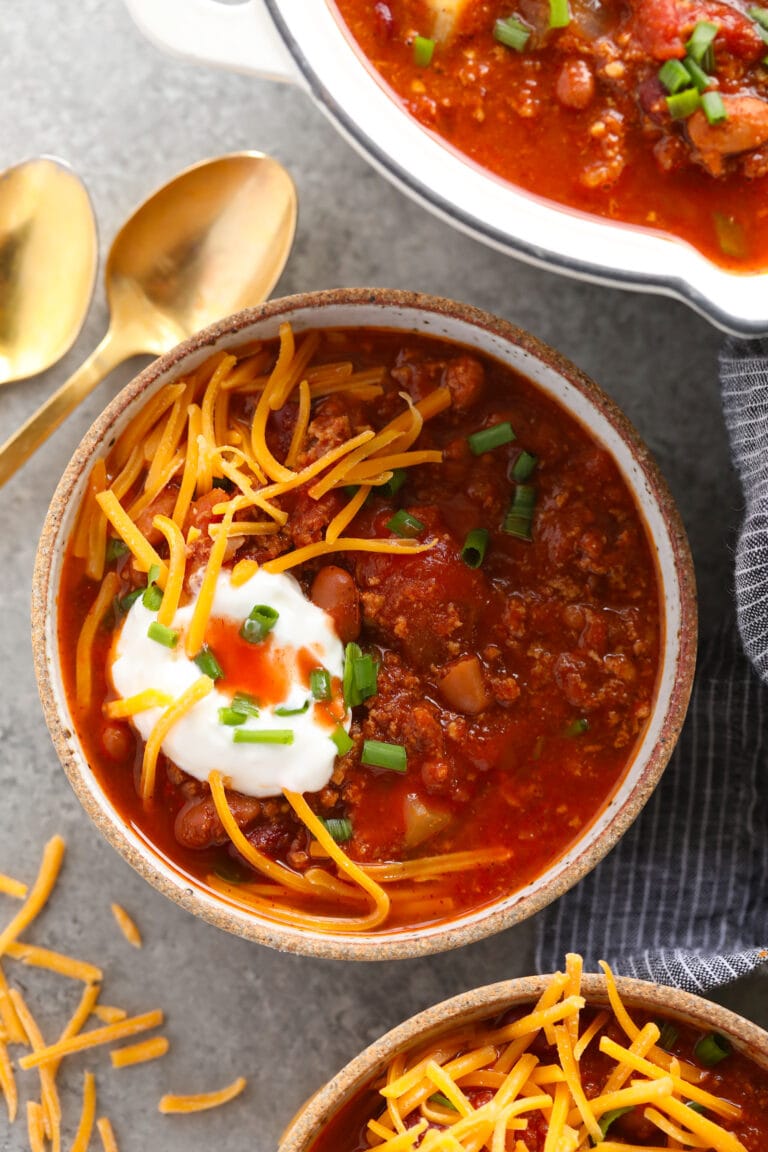 How to Store Turkey Chili
This turkey chili is a great meal-prep option because it serves 6-8, which means you can eat it all week long! We get lots of questions on how to store and freeze soups and chili, so we'll give you the rundown:
How long does turkey chili last?
Turkey chili will last around 5 days in the refrigerator. Just make sure to store it in an airtight container.
Can I freeze turkey chili?
Chili is an excellent meal to freeze! Make sure to let your chili chill completely before transferring it into a plastic container or freezer-safe gallon-size bag. Remove as much air as possible and seal. Then, freeze your chili for up to 3 months.
guide to freezing chili
Save yourself some time and freeze a big batch of chili that you can eat at a later date! We're sharing everything you need to know about freezing and then thawing soup and chili HERE.
Can I Make this Chili in the Slow Cooker or Instant Pot?
This turkey chili can easily be made in the slow cooker or Instant Pot. While we haven't tried either of these methods in the Fit Foodie kitchen, you can follow a similar method to the other slow cooker and Instant Pot chili recipes we have:
CROCKPOT CHILI RECIPES
INSTANT POT CHILI RECIPES