Eat the rainbow with this ultimate garden salad and homemade croutons tossed in French and blue cheese dressing. Enjoy as a side or a main dish!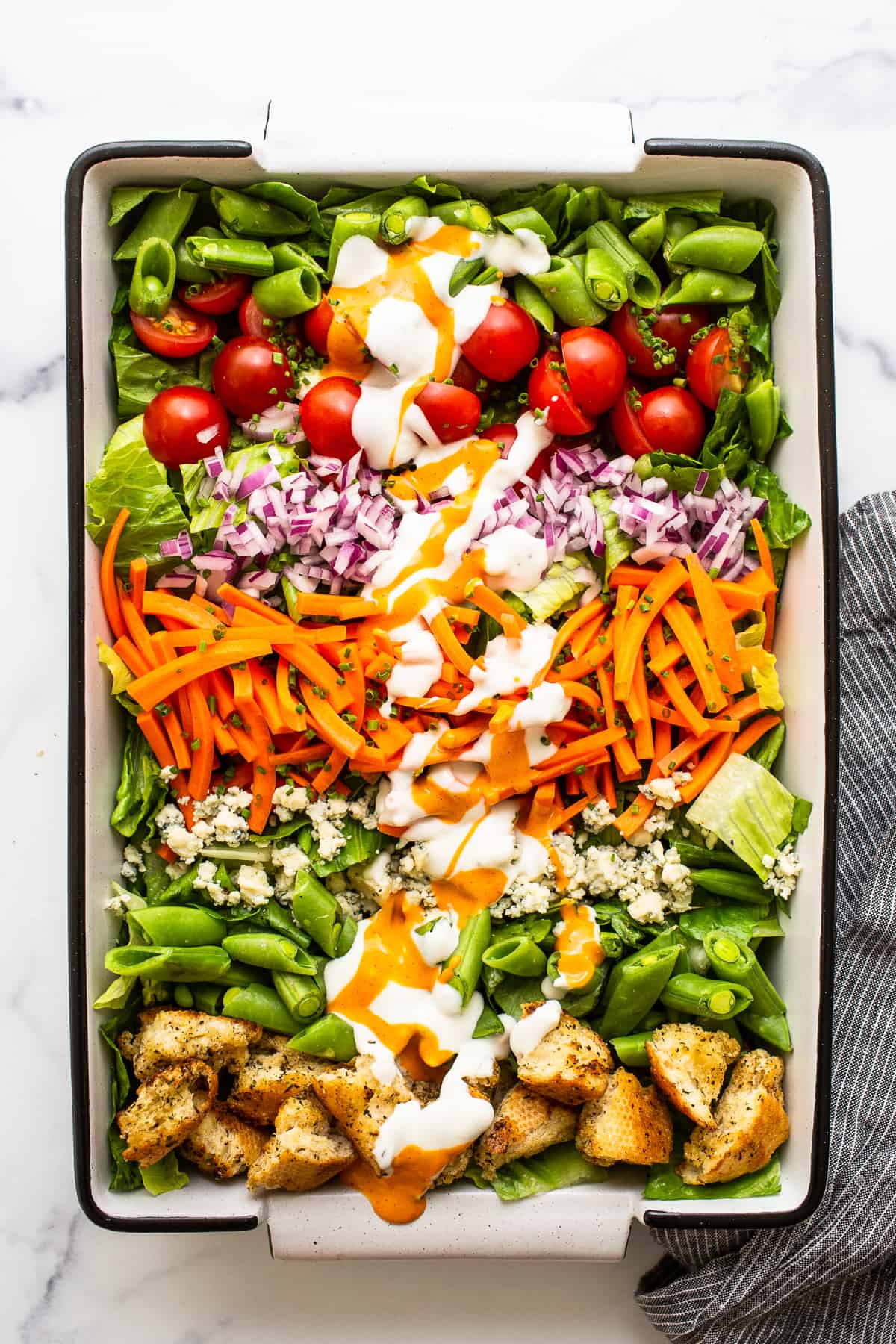 The Ultimate Garden Salad
This ultimate garden salad truly is the ultimate! It tastes oh so FRESH. From the combination of fresh veggies and herbs, to the amazingly delicious combination of French and blue cheese dressing, you can't go wrong serving this salad to your family and friends!
Why you'll love it!
Veggie packed: This garden salad is packed with 5 different, colorful veggies. Yum!
Homemade croutons! Yes, that's right, we're showing you how to make our amazingly easy stove top croutons.
Easily customizable: Don't have some of the veggies? Want to swap out the dressing? Go for it! This salad is easily customizable.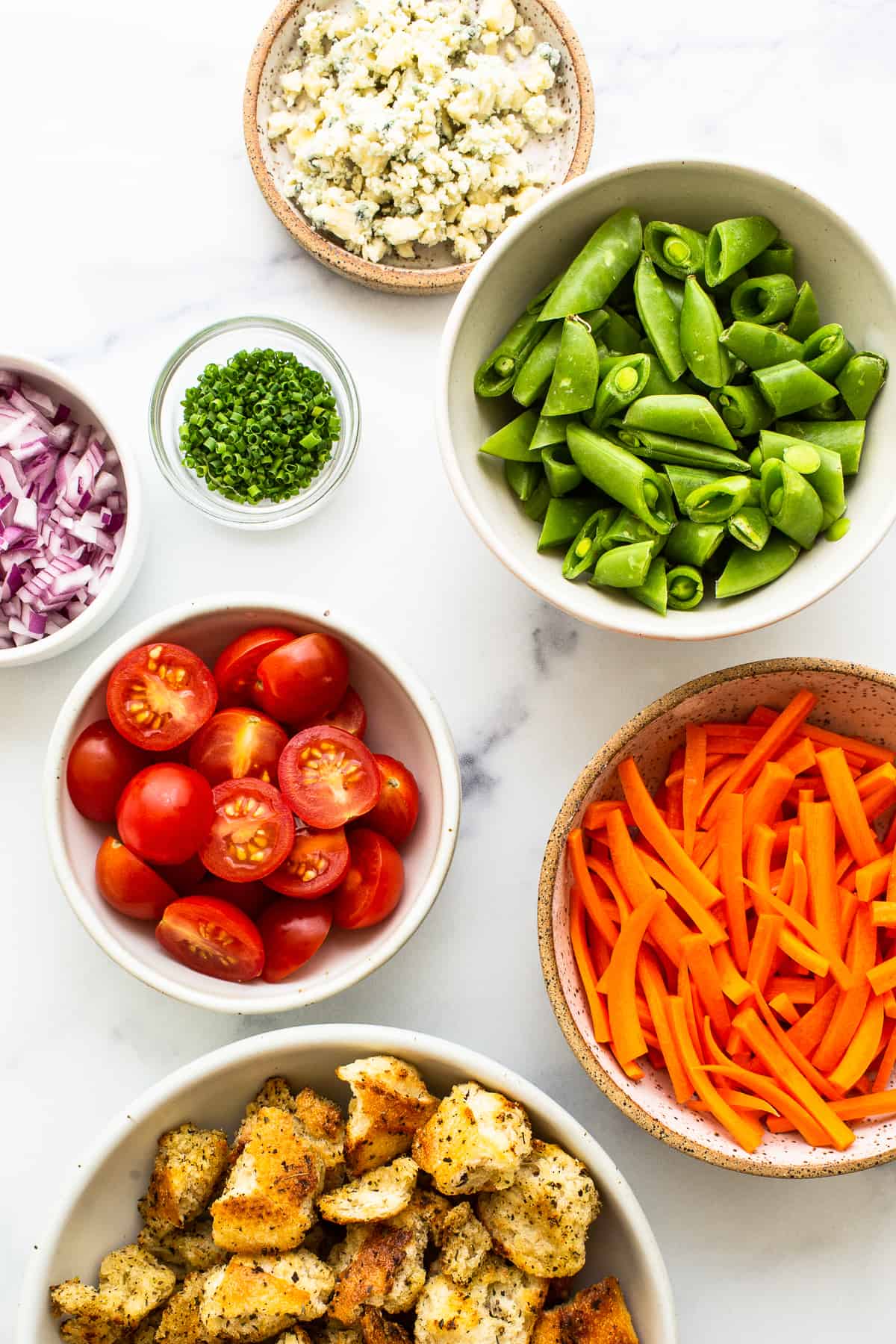 Garden Salad Ingredients
Romaine hearts: Gotta love the crunch of romaine hearts, but feel free to sub for any salad greens you have on hand.
Cherry tomatoes: Cherry or grape tomatoes are the perfect bite-size for a salad like this.
Red onion: Feel free to sub for white or yellow onion if that's all you have on hand.
Matchstick carrots: Matchstick your own or use store-bought! 
Sugar snap peas: You'll love the sweet flavor and crunchy crunch of sliced sugar snap peas. 
Minced fresh chives: Fresh chives add amazing herby flavor to this salad. 
Homemade croutons: You will not regret making our homemade croutons on the stove top!  
Blue cheese crumbles: Not a fan of blue cheese? Crumbled feta or goat cheese are great substitutions. 
Blue cheese dressing: We love making a batch of our Greek Yogurt blue cheese dressing for this salad, but store-bought will do as well. 
French dressing: Any store-bought variety will do!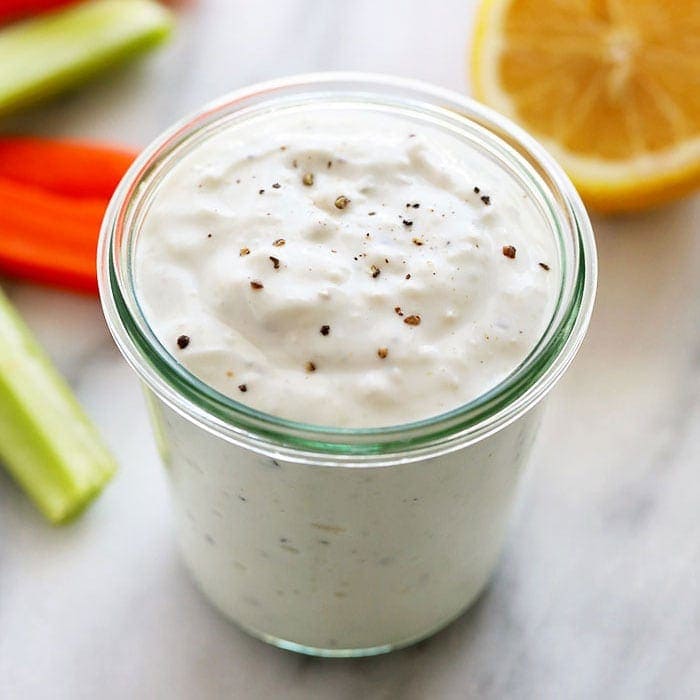 try it!
Blue Cheese Dressing
Whip up our Greek yogurt blue cheese dressing! It's the perfect complement to this garden salad.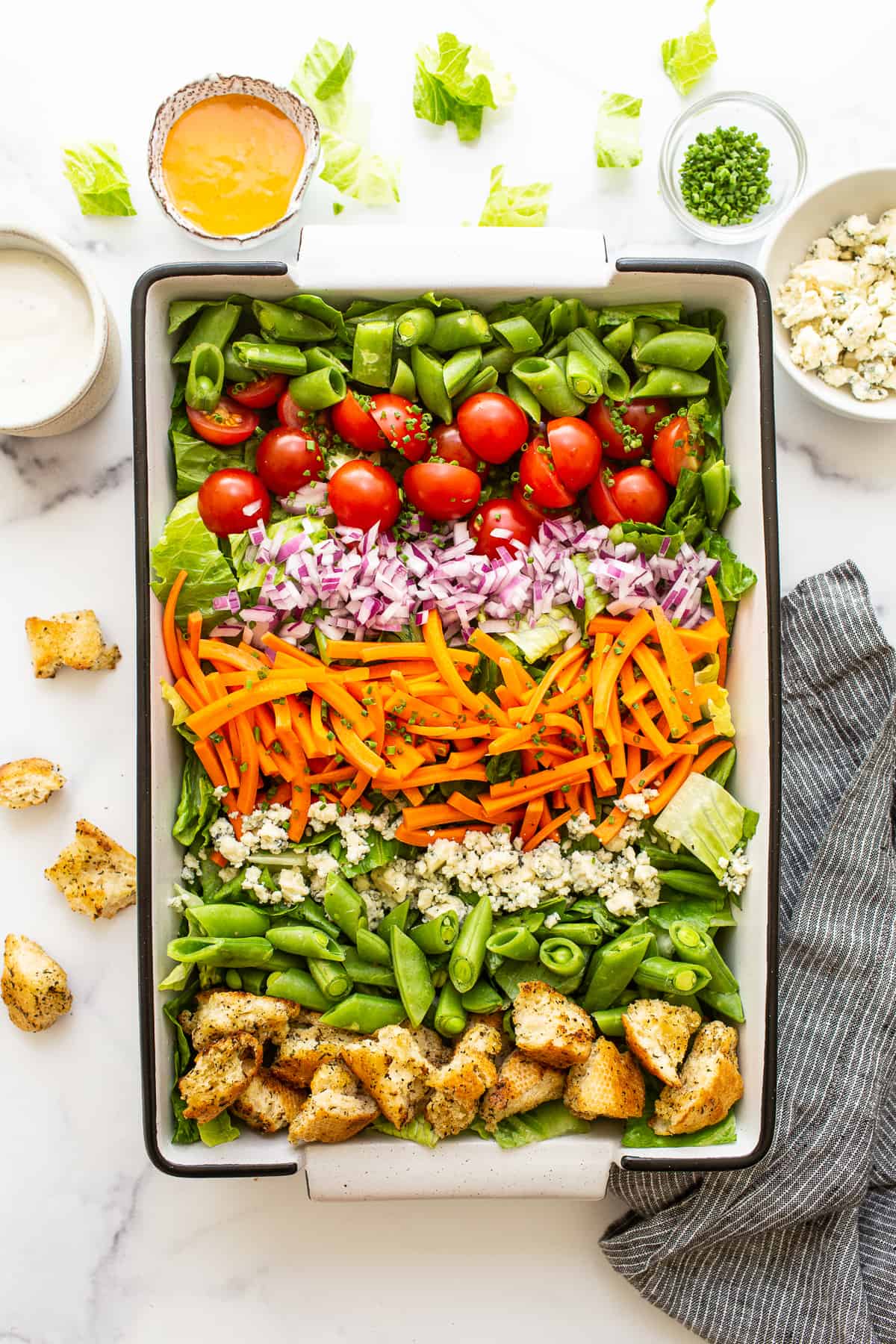 How to Make the Ultimate Garden Salad
Making this garden salad is as easy as 1-2-3!
Combine Ingredients in a bowl
Add the romaine, cherry tomatoes, red onion, carrots, peas and chives to a large salad bowl. 
Toss, Dress & Top
Top the salad with croutons, blue crumbles, and drizzle the blue cheese dressing and French dressing over the top of the salad. 
Serve & Enjoy!
Toss and serve the salad next to your favorite main dishes or on its own.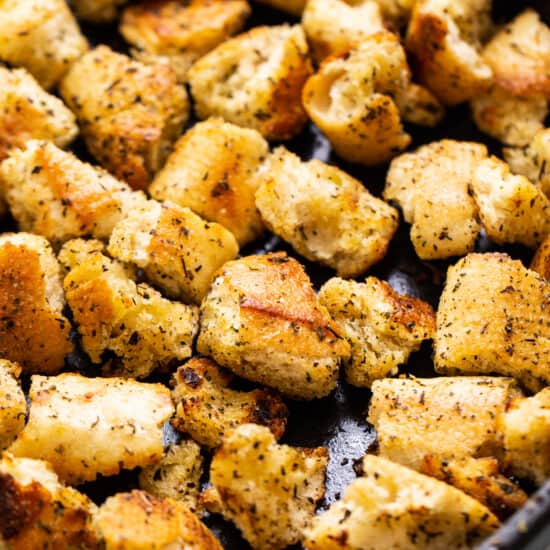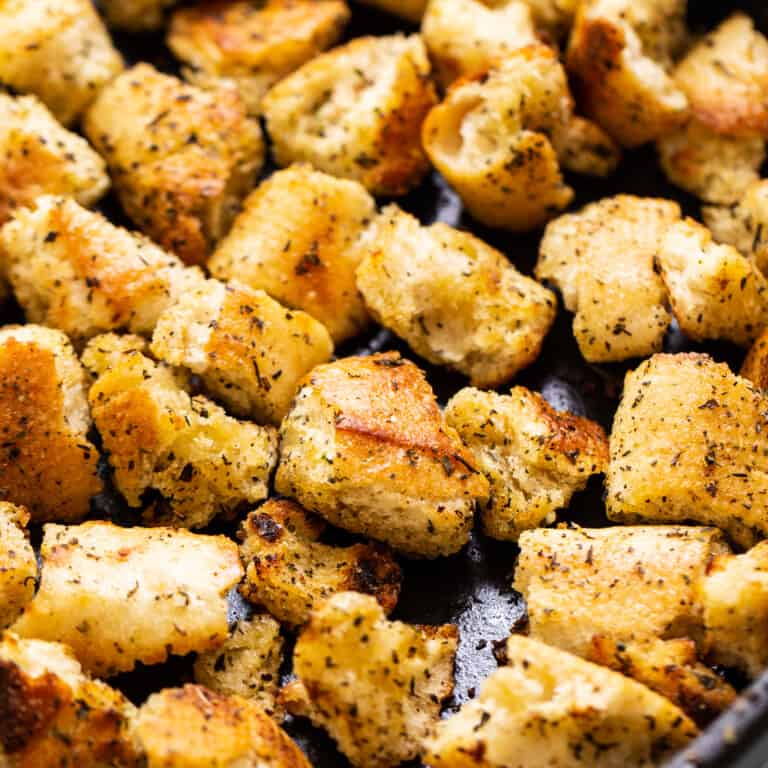 try it!
Homemade Croutons
Make a batch of our homemade croutons for this garden salad — you won't regret it!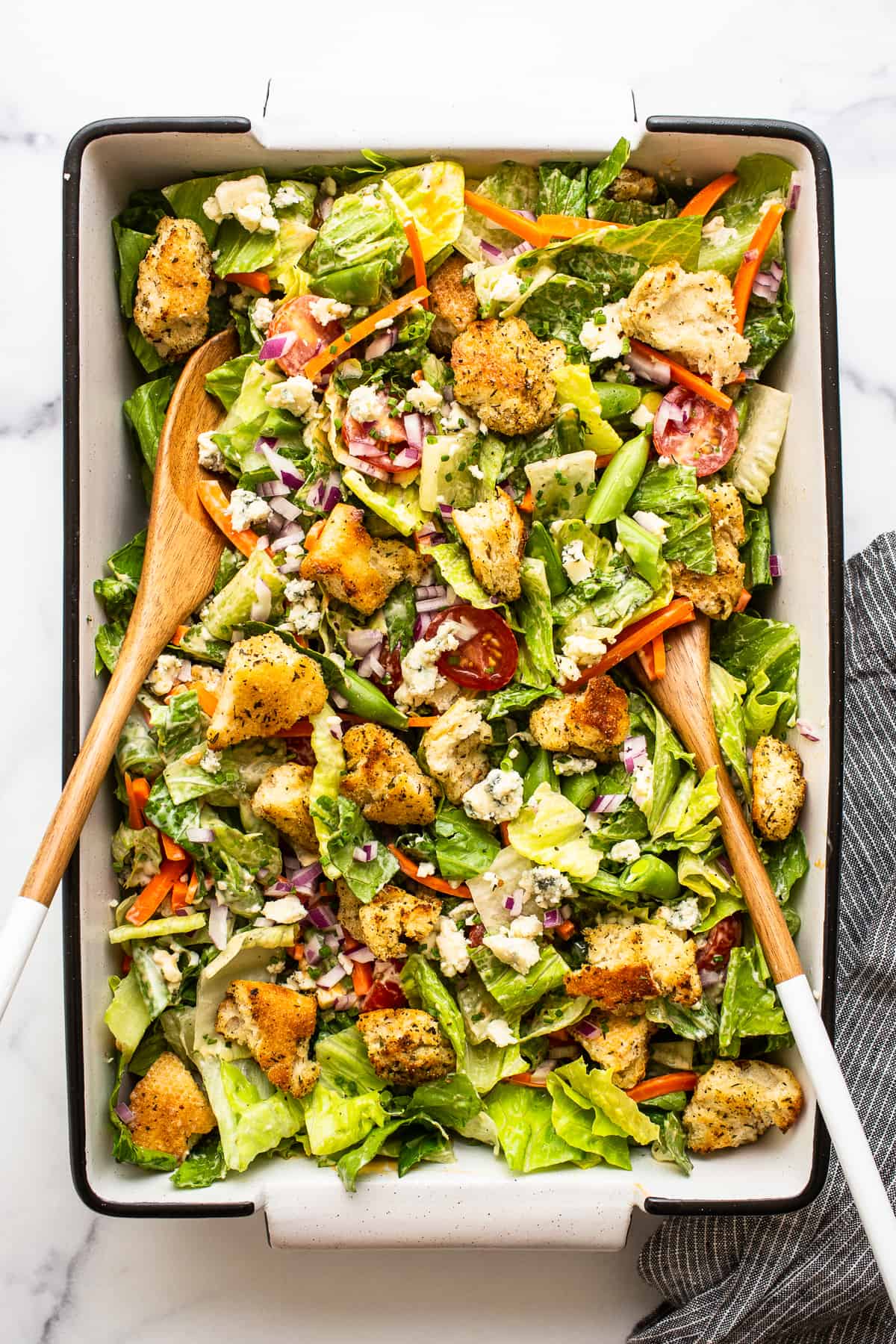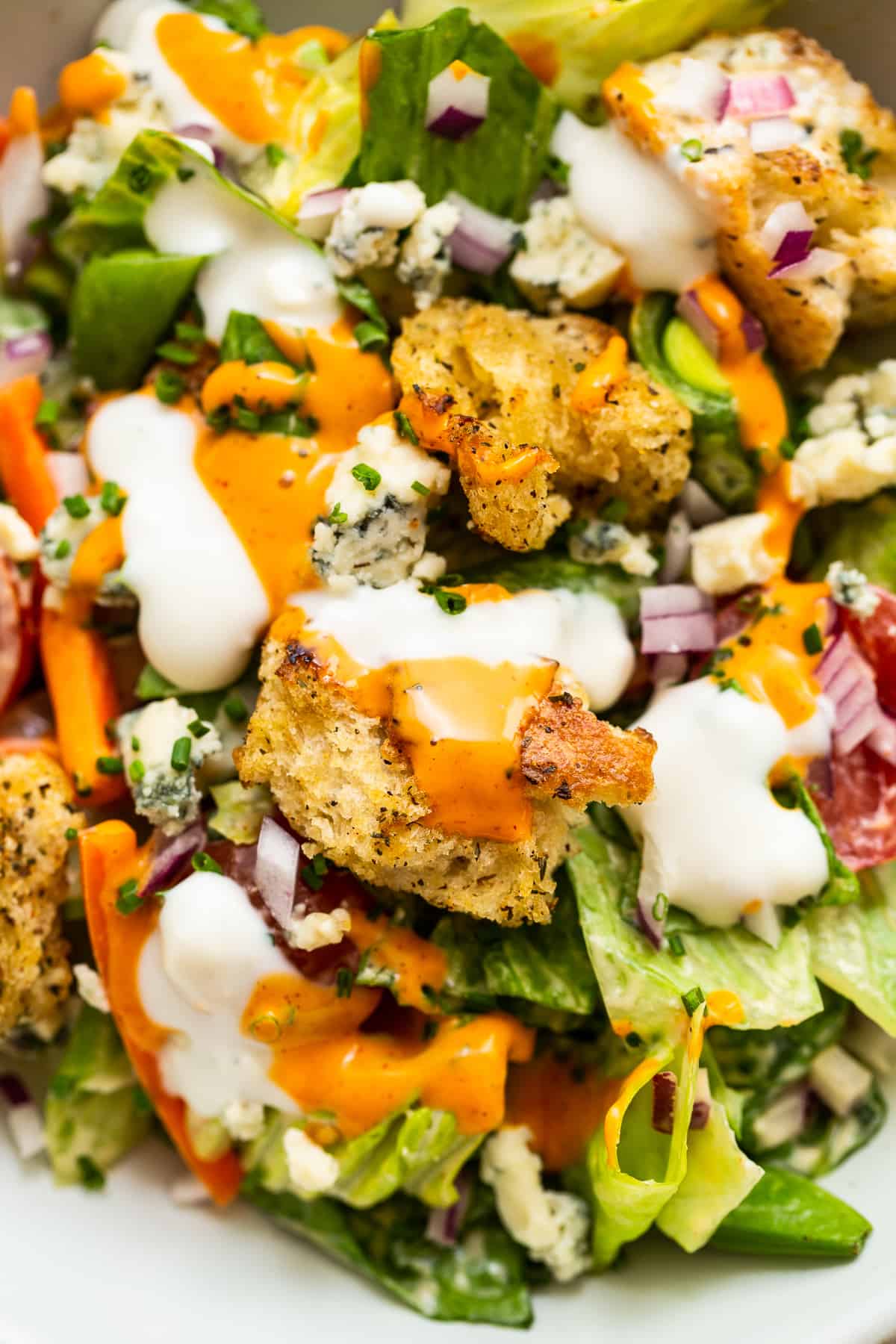 Storage
Store this salad in an airtight container in the fridge for up to 2 days.
Planning to meal prep this salad? Wait to dress the salad until right before you serve it. Store the undressed salad in the fridge for up to 3 days.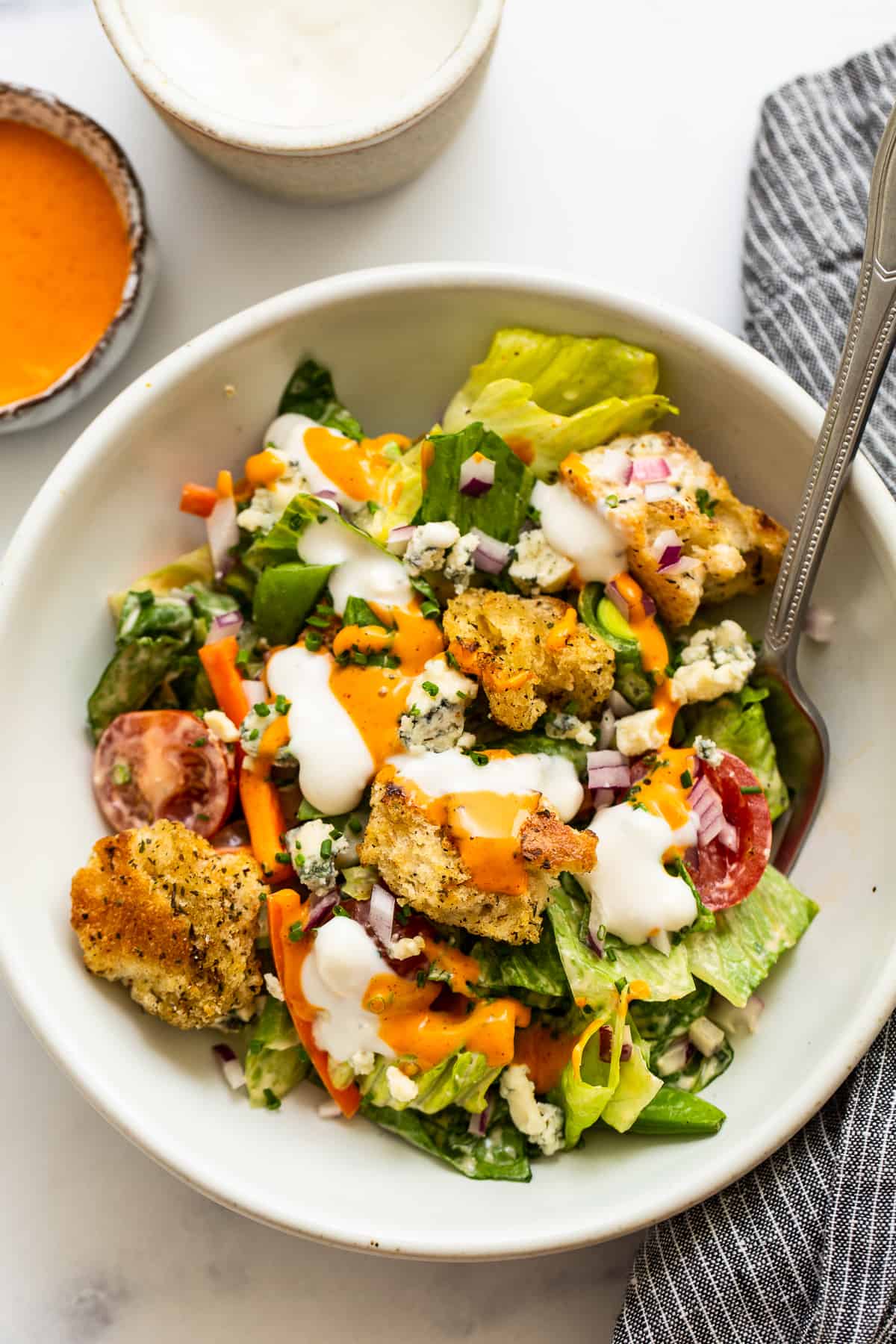 Ingredients
2

romaine hearts

rinsed and roughly chopped

1

cup

halved cherry tomatoes

¼

medium red onion

minced

1

cup

matchstick carrots

1

cup

chopped sugar snap peas

2

tablespoons

minced fresh chives

1.5

cups

homemade croutons

¼

cup

blue cheese crumbles

2-4

tablespoons

Greek yogurt blue cheese dressing

2-4

tablespoons

French dressing
Tips & Notes
Feel free to use any vegetables of your choice for this salad.
If you are not a fan of blue cheese dressing, we recommend ranch dressing.
Nutrition facts
Calories: 105kcal Carbohydrates: 12g Protein: 4g Fat: 5g Fiber: 3g Sugar: 4g